Gratitude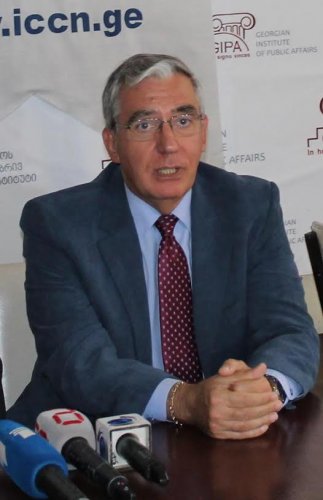 George Khutsishvili, Doctor of Philosophy, Professor (15.XI.1948 – 4.X.2013)
He would have turned 75 today…
Rest in Peace!
***
***
The foundation of peace education was laid in Georgia in 1987:
Professor George Khutsishvili became interested in conflictology in the late 1980s and early 90s. At that time, the field of conflict resolution did not exist in Georgia, but it was already quite developed in the West. During that period, George started working at the Tbilisi School of Managers and introduced the educational course in conflict resolution for the first time (1987).
Since 1994, the International Center on Conflict and Negotiation (ICCN) has implemented training programs in the direction of peace education in the cities and villages of Georgia, the participants of which count more than 15,000.
The first infrastructure for peace (I4P) was established in Georgia in 1992:
In 1992, the State Committee for National Minorities and Human Rights was established, where the "Conflict Research and Analysis Center" was opened especially for Professor George Khutsishvili. At that time, armed conflicts were already raging in Georgia, therefore, the Center was created in response to great challenges and was the first state peace infrastructure in Georgia focused on scientific research of conflicts.
The active engagement of civil society in peace processes has become an integral part of Georgia and the South Caucasus:
On August 8, 1994, George Khutsishvili founded the first independent profile organization in Georgia, which started the scientific study of conflicts, conflict resolution by peaceful means and strengthening peace processes covering Georgia and South Caucasus region. On the initiative of George Khutsishvili and with the participation of 63 founding members, a constituent meeting was held and the "International Center on Conflict and Negotiation" (ICCN) was founded.
Peace mediation, with all its forms and tools, remains today the only way to establish peace in the Region. Thank you that as a result of George Khutsishvili's tireless and yearslong work, this option has become natural and invaluable for the entire Region.

კონფლიქტებისა და მოლაპარაკების საერთაშორისო კვლევითი ცენტრი
International Center on Conflict and Negotiation
Международный Центр по Конфликтам и Переговорам
1994
"Peace is Handmade"