Webinar for Azerbaijani and Armenian Peaceworkers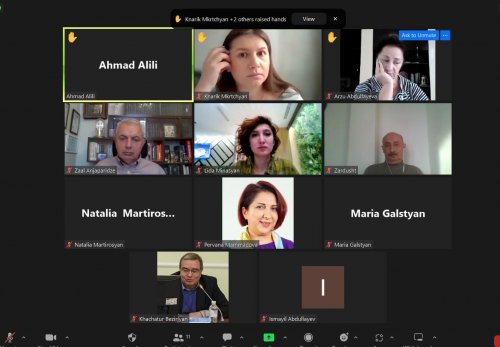 On October 9, within the GPPAC South Caucasus dialogue program, ICCN conducted a webinar for Azerbaijani and Armenian peace workers from the GPPAC regional network, about building and maintaining sustainable peace networks. The webinar dealt with the operation of peace networks in crisis times and methods of overcoming obstacles during networking.
Participants discussed current challenges to the GPPAC Regional Network and concluded that against the background of changes in the geopolitical situation in the region, against the background of recent events in Karabakh, the Network needs to find new benchmarks. The Network needs to define more clearly its goals, intentions, and possibilities, and find its own and unique line. As noted by one of the participants, nowadays the Network suffers from an ideological vacuum, and the Network often does not keep up with the events. Participants agreed that meetings should be held more often to exchange ideas and views. Necessary new visions to respond to the situation in Karabakh and a multidimensional approach.

კონფლიქტებისა და მოლაპარაკების საერთაშორისო კვლევითი ცენტრი
International Center on Conflict and Negotiation
Международный Центр по Конфликтам и Переговорам
1994
"Peace is Handmade"