Future Plans, Projects, Organizational Development - Internal Workshop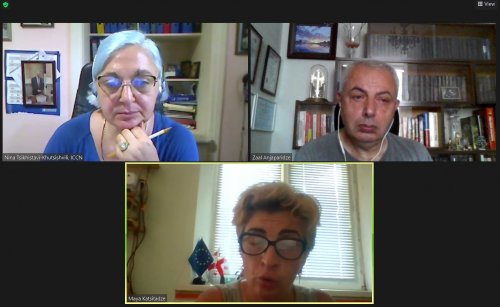 On August 13, the next meeting of the sinior management of the International Center on Conflict and Negotiation was held. The stages and milestones of current programs' implementation were discussed at the meeting. In particular, participants reviewed implementation of ongoing activities under the GPPAC-supported South Caucasus Dialogue Programme. The focus was put on the preparation of the final conference on policy documents on climate change and energy issues prepared by Georgian, Armenian and Azerbaijani experts in the context of the Sustainable Development Goal # 16. The final stage of compiling a human security map in conflict-affected villages were also discussed at the meeting.
The second part of the meeting of ICCN's management was devoted to approving a future plan for 2022: proposed activities were reviewed again, approved and planned alongside with the relevant tasks. Among others, ICCN's mamanegemt paid attention on Mediation Training Certificate Programmes and discussed a new target groups interested in this programmes, and relevant renewed and revised syllabus for Mediation training couces.
The next meeting was scheduled for the last week of August.

კონფლიქტებისა და მოლაპარაკების საერთაშორისო კვლევითი ცენტრი
International Center on Conflict and Negotiation
Международный Центр по Конфликтам и Переговорам