A "META-FORMULA" FOR PEACE, SECURITY, AND STABILITY IN THE CAUCASUS IS NEEDED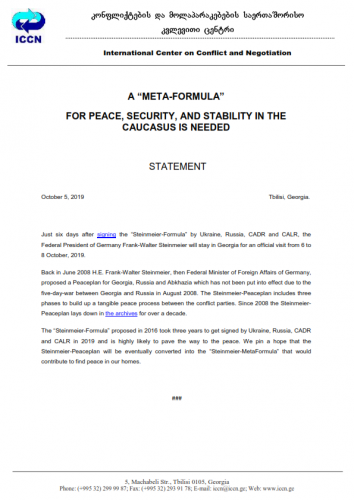 STATEMENT
Just six days after signing the "Steinmeier-Formula" by Ukraine, Russia, CADR and CALR, the Federal President of Germany Frank-Walter Steinmeier will stay in Georgia for an official visit from 6 to 8 October, 2019.
Back in June 2008 H.E. Frank-Walter Steinmeier, then Federal Minister of Foreign Affairs of Germany, proposed a Peaceplan for Georgia, Russia and Abkhazia which has not been put into effect due to the five-day-war between Georgia and Russia in August 2008. The Steinmeier-Peaceplan includes three phases to build up a tangible peace process between the conflict parties. Since 2008 the Steinmeier-Peaceplan lays down in the archives for over a decade.
The "Steinmeier-Formula" proposed in 2016 took three years to get signed by Ukraine, Russia, CADR and CALR in 2019 and is highly likely to pave the way to the peace. We pin a hope that the Steinmeier-Peaceplan will be eventually converted into the "Steinmeier-MetaFormula" that would contribute to find peace in our homes.
Downloads:

კონფლიქტებისა და მოლაპარაკების საერთაშორისო კვლევითი ცენტრი
International Center on Conflict and Negotiation
Международный Центр по Конфликтам и Переговорам
24+ მშვიდობის მშენებლობაში
24+ in peacebuilding
24+ в миростроительстве