International Conference for the advancement of Peace, Justice and Strong Institutions held in Washington DC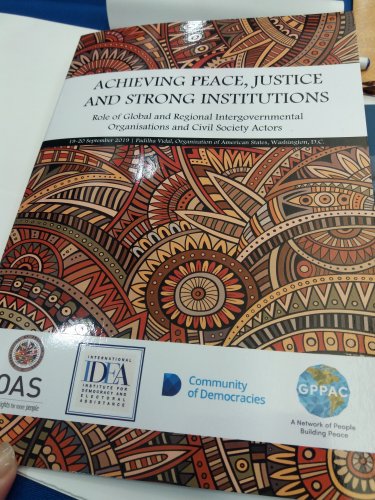 International IDEA, the Community of Democracies, the Organization of American States and the Global Partnership for the Prevention of Armed Conflict (GPPAC) held September 19-20, 2019 the 8th High Level Meeting of the Inter-Regional Dialogue on Democracy (IRDD), and the International Conference on "Achieving Peace, Justice and Strong Institutions: The Role of Global and Regional Intergovernmental Organizations and Civil Society Actors".
The GPPAC Regional Network representatives took place in the Conference. ICCN as a Regional Secretariat of the South Caucasian Partnership Network for Conflict Prevention ,GPPAC was represented by Ms. Maya Katsidagze, ICCN and GPPAC RLO in South Caucasus.
A significant outcome from this conference includes the signing of a cooperation agreement between GPPAC and the Organization of American States (OAS). This will allow GPPAC members in the Americas and beyond to work together with the OAS on issues such as the development of joint conflict prevention initiatives, the protection of civic space, the promotion of greater social cohesion and inclusion in democratic processes.

კონფლიქტებისა და მოლაპარაკების საერთაშორისო კვლევითი ცენტრი
International Center on Conflict and Negotiation
Международный Центр по Конфликтам и Переговорам
24+ მშვიდობის მშენებლობაში
24+ in peacebuilding
24+ в миростроительстве