Conference on Dealing with the Past Held in Borjomi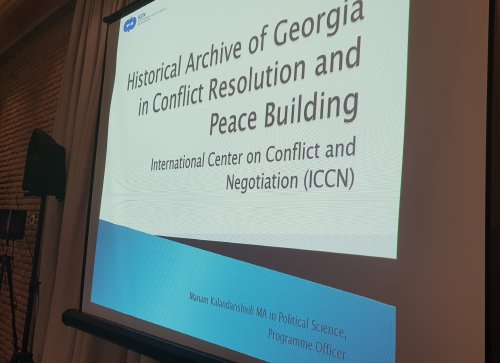 On 18-19 July 2019 a Conference on "Dealing with the Past in Georgia's Conflicts" has been held in Crowne Plaza, Borjomi, Georgia. The Conference aimed at to providing a space for Civil Society actors working on DwP thematics to discuss their overall strategies and specific priorities. The conference is one of a series of events supported by the UN office in Georgia under the general theme of 'Revitalizing Civil Society Peacebuilding in Georgia's Conflicts.' The Conference participants reviewed the current avenues of DwP work and reflected on the strengths and weaknesses of different types of interventions. The Conference was devoted to a discussion of what should be the key objectives and main elements of an overall strategy for pushing the DwP agenda forward in the Georgian context.
Ms. Mariam Kalandarishvili, Programme Officer of ICCN has presented the "Historical Archive of Georgia in Conflict Resolution and Peace Building". ICCN's Archive will enable access to researchers that are working on peace process related provisions, supports scholars and interested stakeholders and individuals that are engaged in Peace Process of Georgia.
Downloads:

კონფლიქტებისა და მოლაპარაკების საერთაშორისო კვლევითი ცენტრი
International Center on Conflict and Negotiation
Международный Центр по Конфликтам и Переговорам
24+ მშვიდობის მშენებლობაში
24+ in peacebuilding
24+ в миростроительстве