The Seminar "Re-establishment of Justice and Dialogue in the OSCE Conflict Regions – Two Angles of Transitional Justice" held in the Hague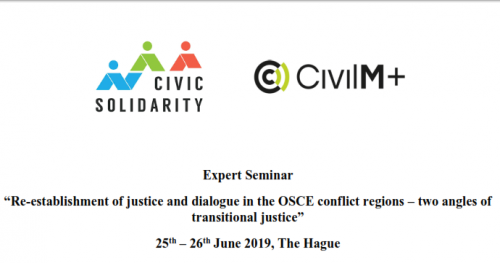 The Seminar on Transitional Justice was organized by the DRA e.V./CivilM+ and Netherlands Helsinki Committee/Civic Solidarity Platform and took place in The Hague, on 25-27 June, 2019.
Nina Tsikhistavi-Khutsishvili, Director of ICCN spoke and presented her views about effective synergies possible between the two platforms/networks when working on conflict transformation.
Since 2018 ICCN became a member of the newly created Working Group on "Human Rights and Peacebuilding" of the Civic Solidarity Platform.

კონფლიქტებისა და მოლაპარაკების საერთაშორისო კვლევითი ცენტრი
International Center on Conflict and Negotiation
Международный Центр по Конфликтам и Переговорам
24+ მშვიდობის მშენებლობაში
24+ in peacebuilding
24+ в миростроительстве