Broadening Horizons: Improved Choices for the Professional and Economic Development of Women and Girls (2013-2016)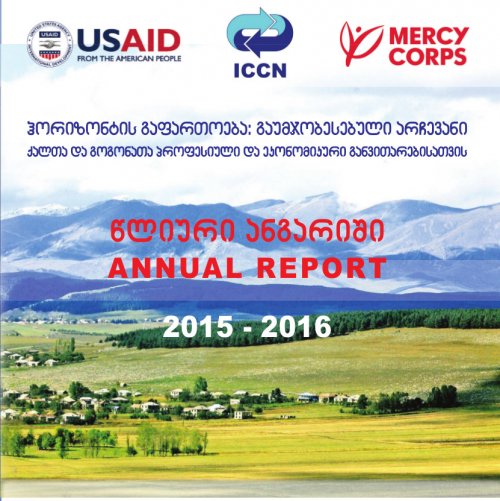 The goal of the program to have increased involvement in and benefit from educational, professional and economic opportunities for women and girls has been achieved.
The main objectives reached: 1) 2000 women and 1000 girls in municipalities have increased participation in decision making at community and municipal levels, and 2) 3000 women and girls in 13 municipalities have made more informed choices based on increased access to information and services in the areas of education, training, employment, and professional development.
The 22-year work history of International Center on Conflict and Negotiation counts a lot of interesting and useful projects that were implemented in Georgia as well as in the South Caucasus. The strengthening of civil society, conflict prevention and management, peace journalism and many others are among these projects. In April 2014 the list was joined by the qualitatively new program "Broadening Horizons: Improved Choices for Professional and Economic Development of Women and Girls". In the frame of the program we have covered more than 7000 citizens from 13 municipalities of Samtskhe Javakheti and Kvemo Kartli regions. Mentioned became possible through big efforts of the program team members and their dedication towards the work they are doing. We are talking not only about statistically counted 7000 people, but about the conducted joint work on the concrete issues, announcement of many interesting initiatives and lobbing.
I would like to thank the program team, the financial support from USAID and implementing partner - Mercy Corps Georgia for this opportunity.
Today, the program team can proudly say that we have managed it!
Downloads:

კონფლიქტებისა და მოლაპარაკების საერთაშორისო კვლევითი ცენტრი
International Center on Conflict and Negotiation
Международный Центр по Конфликтам и Переговорам
24+ მშვიდობის მშენებლობაში
24+ in peacebuilding
24+ в миростроительстве